Gold prices rose in Asia on Friday in continued gains from overnight on political and economic uncertainty.On the Comex division of the New York Mercantile Exchange, gold futures for December delivery traded at $1,222.80 a troy ounce, up 0.12% after hitting an overnight session low of $1,207.40 and off a high of $1,225.10.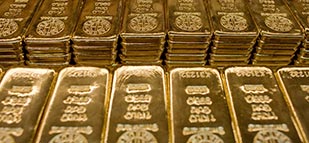 Overnight, gold futures rose as investors sought safety in the precious metal amid a global stock market meltdown, though prices moved in a whipsaw fashion thanks to hawkish comments out of the Federal Reserve that strengthened the dollar.
Stock markets plunged on Thursday on news Russia may consider a proposal allowing Moscow to seize foreign assets, which spooked investors across the globe.A draft law, a response to Western sanctions slapped on the country for its alleged meddling in the Ukraine conflict, was sent to the Russian parliament Wednesday.
Elsewhere, Apple shares fell on concerns its new iPhone may be prone to glitches, including bending hardware and problematic software upgrades, which sent the tech bellwether falling and brought broader indices with it.
Hawkish comments out of the Federal Reserve boosted the dollar and allowed for choppy trading at times.Dallas Federal Reserve President Richard Fisher, a known inflation hawk, said the U.S. central bank may start raising benchmark interest rates around the spring of 2015, earlier than many market expectations.While the Fed has suggested its bond-buying program could close in October, uncertainty has remained as to when rate hikes may begin in 2015.
http://www.investing.com/news/commodities-news/gold-prices-continue-gain-into-asia-on-political,-economic-uncertainty-310847