The dollar remained supported against a basket of other major currencies on Monday as heightened tensions between Russia and the West and conflict in the Middle East underpinned safe haven demand.
USD/JPY was steady at 101.32, holding above Friday's one week low of 101.07.Tensions between the West and Russia have mounted since the shooting down of a Malaysian airliner in eastern Ukraine late last week. The U.S. and other nations have accused Russia of complicity in the crash, which Moscow has denied.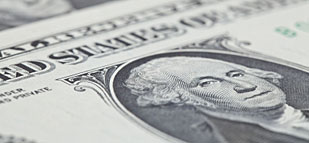 Market sentiment deteriorated on Monday following reports that Ukrainian troops were moving in to the rebel held city of Donetsk, fuelling fears over an escalation of the conflict in the region.Concerns over Israel's ground offensive in Gaza also contributed to risk aversion in markets.
EUR/USD dipped 0.04% to 1.3520, not far from Friday's five month trough of 1.3490.The euro remained under pressure after recent comments by European Central Bank President Mario Draghi were seen as the latest sign that the bank is open to further monetary easing measures to stave off the risk of deflation in the euro area.
In contrast, Federal Reserve Chair Janet Yellen indicated last week that interest rates may rise sooner if the economy continues to improve.The euro also edged lower against the yen, with EUR/JPY slipping 0.07% to 136.96 close to the five month lows of 136.69 set on Friday.
The dollar was little changed against the Swiss franc, with USD/CHF at 0.8983. The pound slipped lower, with GBP/USD down 0.17% to 1.7058.AUD/USD lost 0.20% to trade at 0.9372, while NZD/USD was almost unchanged at 0.8689.
http://www.investing.com/news/forex-news/forex—dollar-supported-in-risk-off-trade-296464