The pound trimmed gains against the broadly stronger dollar on Wednesday, easing back from session highs, but remained supported after the minutes of the Bank of England's latest meeting boosted expectations for a rate hike.
GBP/USD was up 0.20% to 1.6649, off session highs of 1.6679.Cable was likely to find support at 1.66, the session low and a more than four-month low and resistance at around the 1.67 level.Sterling rebounded from more than four month lows against the dollar earlier after the minutes of the BoE's August meeting showed that monetary policy committee members were split on interest rates.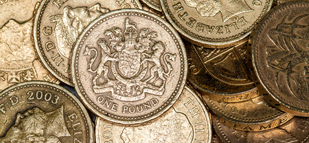 Ian McCafferty and Martin Weale voted to raise the bank rate by 25 basis points to 0.75%, while the remaining seven MPC members voted to keep monetary policy unchanged.It was the first time that the MPC has been split over interest rates since 2011.
The minutes revived expectations that the BoE could hike rates in the coming months as the economic recovery in the U.K. continues gain momentum.The pound fell across the board on Tuesday after official data showing that the annual rate of inflation in the U.K. slowed sharply in July was seen as diminishing the likelihood for a rate hike after the bank halved its forecast for pay growth last week.
The annual rate of inflation slowed to 1.6% from 1.9% in June. Economists had expected inflation to tick down to 1.8%.Demand for the greenback continued to be underpinned after recent reports indicated that the U.S. economic recovery is on track.
Data on Tuesday showed that U.S. housing starts jumped 15.7% in July, while the number of new permits granted to home-builders also accelerated. The data pointed to underlying strength in the housing sector, which stalled in the second half of last year.
The data offset a report showing that U.S. consumer prices rose just 0.1% in July.Investors were looking ahead to the minutes of the Fed's latest meeting due for release later Wednesday for further indications on the future direction of monetary policy. Market watchers were also awaiting a speech by Fed Chair Janet Yellen in Jackson Hole on Friday.
http://www.investing.com/news/forex-news/forex—sterling-off-highs,-boe-minutes-still-support-304522