Gold continued to drop in early Asia on Friday with investors focused on the possibility of a Federal Reserve rate hike next year.On the Comex division of the New York Mercantile Exchange, gold futures for December delivery traded at $1,226.20 a troy ounce, down 0.06%, after hitting an overnight session low of $1,216.60 and off a high of $1,228.50.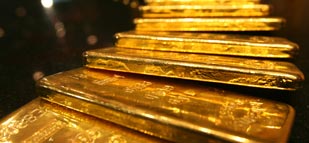 Overnight, gold prices fell after investors digested the Federal Reserve's Wednesday statement on interest rates and concluded that tighter monetary policy is drawing closer and usher in a strengthening trend for the dollar.
The Federal Reserve on Wednesday said that it will likely close its monthly bond-buying program in October and suggested it will raise interest rates in 2015.The Fed added interest rates will hover just above zero for a "considerable time," but the U.S. central bank also suggested it could move to hike benchmark borrowing costs faster than anticipated once it decides to begin tightening.
An end of stimulus and prospects for higher interest rates should give the dollar added support going forward, ending six years of ultra-loose monetary policy that have bolstered gold prices, which shrugged off mixed U.S. data.
In a report, the U.S. Department of Labor said the number of individuals filing for initial jobless benefits in the week ending Sept. 13 fell by 36,000 to 280,000, the lowest level since mid-July, from the previous week's revised total of 316,000.
Analysts had expected jobless claims to fall by 11,000 to 305,000 last week.Separately, the U.S. Commerce Department said that the number of building permits issued last month dropped by 5.6% to 998,000 units from July's total of 1.057 million.
Analysts expected building permits to fall by 0.4% to 1.045 million units in August.The report also showed that U.S. housing starts tumbled by 14.4% last month to hit 956,000 units from July's total of 1.117 million units, confounding expectations for an increase to 1.040 million.
http://www.investing.com/news/commodities-news/gold-prices-dip-in-asia-as-investors-keep-focus-on-fed-310039